Save yourself from dealing with needles, painful, and expensive acupuncture treatments!👌
Do you want to instantly treat your body pains with acupuncture but are afraid of being punctured by needles?
Our new Medical Acupuncture Massage Pen™ has been designed to remove your pains and aches quickly so that you can start living a pain-free life.
Our Revolutionary Acupuncture Pen™ does not contain any needles and provides a painless, acupuncture-type stimulation using an electric pulse to successfully treat a range of conditions including back pain, arthritis, sciatica, fibromyalgia, migraines, sports injuries, muscle & joint pains.
Our Acupuncture Pen™ is 100% safe to use with no side effects. As long as you follow our simple user manual.
100% Brand new & High quality!
Premium materials & not available in stores!
Free Worldwide Shipping & 100% Money-Back Guarantee! 
Features:
SUPER EFFECTIVE ON ALL PARTS OF THE BODY: With one use of our acupuncture pen, you'll be able to relieve all of your pain and stress within a few minutes! 80% of customers reported that they relieved pain in at least one area of their body on their first use!
IMPROVES YOUR HEALTH: With frequent use of our Acupuncture Pen, you'll instantly eliminate all stress and anxiety, along with the reduction of your chronic pain. It also increases blood flow and stimulates your facial and body muscles. Probably the greatest benefit this pen provides is that it brings you in harmony with the world around you for a healthier life!
NO NEEDLES, NO PAIN: Unlike traditional acupuncture treatments, our acupuncture pen relieves pain without any needles. This allows you to enjoy the acupuncture experience, especially those that have a fear of needles!
FDA APPROVED, 100% SAFE TO USE: Our Acupuncture Pen is FDA approved and 100% safe to use. Its electrical pulse system is safe and does not cause any side effects. Don't be worried about this product, it's only here to help you!
EASY TO USE & PORTABLE: This product is super easy to use. All you have to do is choose your desired intensity and apply to the area causing you pain, or to an acupuncture point! It's also very convenient to carry around town in your bag and even in your pocket.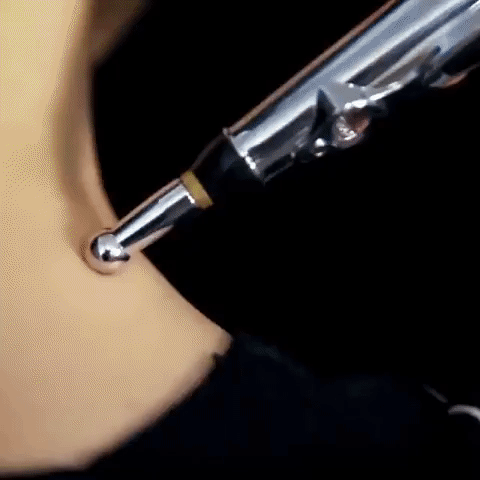 How It Works:
Simply press our Medical Acupuncture Massage Pen™ to the affected body areas and it will release a painless electric pulse to stimulate the meridian and acupuncture points in your body to promote healing and provide pain relief.
This acupuncture pen has 9 different adjustable intensity levels to choose from and 2 different pen tips (flat tip and rounded tip) to cover all aches and pains.
Multiple Usages:
Specifications:
Package includes:
1 x The Medical Acupuncture Massage Pen™!
Need help? please Contact us here, our support ready to help! 

An amazing cause. 
We're thrilled to support First Book - an amazing charity that donates books to disadvantaged children who need them the most.
✈️Free Worldwide Shipping! Safe & with Continuous tracking updates!
we 'll ship your order within 24H!We offer a 100% Money-Back Guarantee! 
if any item lost or damaged in transit!
If you aren't in Love with your purchase, just let us know within 30 days of the delivery date, and you'll receive a stress-free refund.
You can find additional information about our Return Policy HERE.